I was able to screen Black Adam in order to write this Black Adam parents guide. All opinions are my own.
I have been looking forward to seeing Dwayne Johnson play Black Adam for a while. I will admit I don't know much about the comic so I wasn't sure what to expect with the storyline. It starts out with a backstory – starting thousands of years ago in Kahndaq. It shows how he had been a slave worker for an evil (demonic) king who is looking for Eternium to imbue in his crown. Through a series of events, Black Adam is bestowed with the almighty powers of the ancient gods to bring justice.
Shortly after he was never heard or seen from again. Fast forward to the current day and we find ourselves in a new city built over the old one where Black Adam lived all those years ago. The country is oppressed and under tyrant rule from Intergang. A small few are trying to rise up against them and keep the crown from getting found by the people trying to take over the country. This leads to Adrianna (Sarah Shahi) unintentionally releasing Black Adam from his earthly tomb.
Black Adam has to learn how to live in the modern world and doesn't want to comply with the Justice Society when they show up to take him to be imprisoned. The Justice Society consists of Pierce Brosnan as Doctor Fate, Noah Centineo as Atom Smasher, Aldis Hodge as Hawkman, and Quintessa Swindell as Cyclone.
I personally loved the storyline – it did feel a little "redone" but it's a superhero/comic movie and if we are being honest…they are all similar – good vs bad – the heroes, the villains, the people, a hard background story. etc etc etc. Dwyane Johnson does great as the anti-hero and with the amazing "end credit" scene (which is actually before the credits start rolling) – I have high hopes that we will see more of him to come.
Sit back and relax and enjoy a fun, exciting movie. There is a lot of humor and some other more serious parts. There are some gory scenes – with the fights and violence – and some others that are intense. But if your family is familiar with any other superhero/comic movies, they will enjoy this one a lot. My kids all loved it.
Black Adam opens in theaters on October 21, 2022
Black Adam Parents Guide
Black Adam is rated PG-13 for sequences of strong violence, intense action, and some language. It runs for 2h 4m.
There is one mid-credit and no end-credit scenes for Black Adam
Sex & Nudity – None
Violence & Gore – A lot of fight scenes. Some graphic violence (a man stabbed shows blood spraying out as he is thrown from a cliff, a man is torn in half, a man is shot and lying with blood showing). Hitting, punching, smashing, throwing, and all the other superhero fight elements you can think of. Black Adam "zaps" people and kills them, blow them up, etc.
Profanity – Several uses of shit, damn, hell, and ass. A few uses of God.
Alcohol, Drugs & Smoking – None
Frightening & Intense Scenes – Some of the scenes of the people dying or being shown dead can be frightening to younger viewers. There is a demon that looks evil. A man drowns. Some of the fighting scenes. There are "legions from hell" that come as zombies
Black Adam is a great movie that balances the back story with the current day. Overall rating of 8/10! I would recommend 8+ for this if they are familiar with superhero movies.
Black Adam opens in theaters on October 21, 2022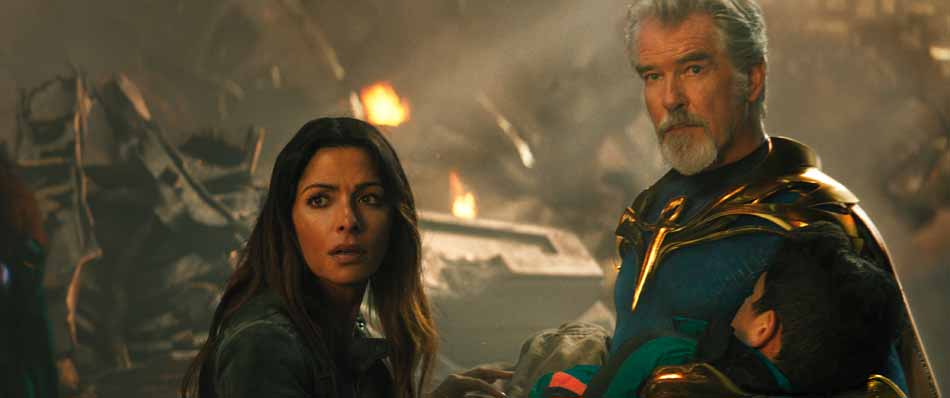 About Black Adam:
From New Line Cinema, Dwayne Johnson stars in the action-adventure "Black Adam." The first-ever feature film to explore the story of the DC Super Hero comes to the big screen under the direction of Jaume Collet-Serra ("Jungle Cruise").
Nearly 5,000 years after he was bestowed with the almighty powers of the ancient gods—and imprisoned just as quickly—Black Adam (Johnson) is freed from his earthly tomb, ready to unleash his unique form of justice on the modern world.
Johnson stars alongside Aldis Hodge ("City on a Hill," "One Night in Miami") as Hawkman, Noah Centineo ("To All the Boys I've Loved Before") as Atom Smasher, Sarah Shahi ("Sex/Life," "Rush Hour 3") as Adrianna, Marwan Kenzari ("Murder on the Orient Express," "The Mummy") as Ishmael, Quintessa Swindell ("Voyagers," "Trinkets") as Cyclone, Bodhi Sabongui ("A Million Little Things") as Amon, and Pierce Brosnan (the "Mamma Mia!" and James Bond franchises) as Dr. Fate.
Collet-Serra directed from a screenplay by Adam Sztykiel and Rory Haines & Sohrab Noshirvani, screen story by Adam Sztykiel and Rory Haines & Sohrab Noshirvani, based on characters from DC. Black Adam was created by Bill Parker and C.C. Beck. The film's producers were Beau Flynn, Dwayne Johnson, Hiram Garcia, and Dany Garcia, with Richard Brener, Walter Hamada, Dave Neustadter, Chris Pan, Eric McLeod, Geoff Johns, and Scott Sheldon.
"Black Adam" smashes into theaters and IMAX internationally beginning on 19 October 2022 and in North America on October 21, 2022. It will be distributed worldwide by Warner Bros. Pictures.
Black Adam Trailer
Follow Along on Social:
WEBSITE | https://www.blackadammovie.com
FACEBOOK | https://www.facebook.com/blackadammovie
INSTAGRAM | https://www.instagram.com/blackadammovie
TWITTER | https://twitter.com/blackadammovie
#BlackAdam
Black Adam opens in theaters on October 21, 2022
I hope this Black Adam parents guide helped you! Let us know what you thought of the movie.
Other new releases we think you will like:
Strange World Trailer from Disney Animation Studios
Lyle, Lyle, Crocodile Parents Guide
Winslow Fegley Interview for Lyle, Lyle, Crocodile
Black Panther: Wakanda Forever Trailer
Disenchanted trailer (sequel to Enchanted)
Abominable and The Invisible City by DreamWorks Animation