This post is in partnership with Sony Home Entertainment. All opinions are my own.
This will date me a little, but I remember when Swan Princess came out for the first time. My parents got me my own copy on VHS!!! lol. I loved that movie and watched it all the time, singing along to the songs. Now that I am grown with daughters of my own, I have very much enjoyed rewatching the movie with them.
I was even more thrilled when our amazing friends at Sony sent my daughter an Odette Halloween costume!! She loves dressing up in it, the jewelry and crown and watching the movie and singing along as I did. (I just wish I had had a beautiful dress like she has while watching it, lol). You can get your copy of The Swan Princess 25th Anniversary Edition in-stores or online here 10/29/19.
You can see Kenzie rocking her Odette costume below. You can get your Odette costumes (for adult and kid) as well as so much more from https://www.swanprincessseries.com.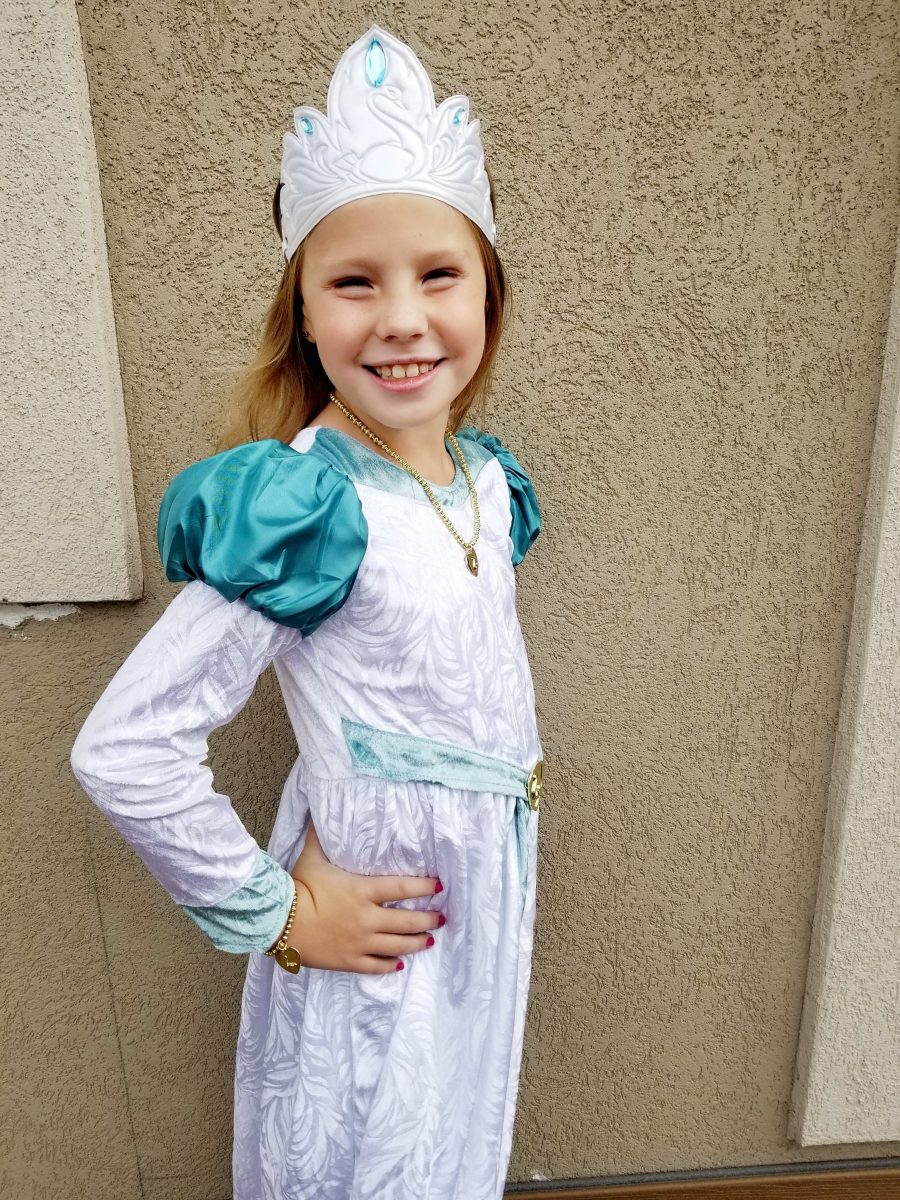 About The Swan Princess
THE SWAN PRINCESS, a magical, musical animated adventure based on the classic fairy tale "Swan Lake" has captured the hearts of audiences around the world. The winner of the Film Advisory Board Award of Excellence and the Parents' Choice Award, it's the heartwarming story of the beautiful princess Odette, who is transformed into a swan by an evil sorcerer's spell.
Held captive at an enchanted lake, she befriends Jean-Bob the frog, Speed the turtle and Puffin the bird. Despite their struggle to keep the princess safe, these good-natured creatures can do nothing about the sorcerer's spell, which can only be broken by a vow of everlasting love. THE SWAN PRINCESS is bursting with color, dazzling animation, beautiful music and the vocal talents of Jack Palance, John Cleese, Steven Wright, Sandy Duncan, and Michelle Nicastro.
The 25 anniversary Blu-ray release includes an all-new featurette entitled "A Look Back, Tease Ahead," plus a variety of additional archival features.
New Swan Princess film The Swan Princess: Kingdom of Music
As you reminisce over 25 years of the beloved series, you can also enjoy the newest magical installment THE SWAN PRINCESS: KINGDOM OF MUSIC.
In this movie, our favorite princesses are back in an all-new feature-length musical adventure. Princess Odette is hosting a music competition to celebrate Princess Alise's birthday – the winner will sing at her grand birthday ball!
Prince Li of Cathay has entered, but his sister Princess Mei Li has stowed away on his ship to seek help from Odette and Derek for Chen, who has been cursed to live as a dragon. Lucas and Alise are reunited but Prince Li's arrival makes Alise doubt her feelings.
While Li and Lucas fight for Alise's heart, Derek and Odette try to help Mei Li and Chen break the curse. Who will win the music festival and will Chen ever be free from his curse?
Included with the Kingdom of Music DVD are interactive sing-alongs featuring two all-new toe-tapping tunes from the film and a behind-the-scenes featurette that explores how the world and characters of the film were brought to life.
THE SWAN PRINCESS has a runtime of approximately 90 minutes. THE SWAN PRINCESS: KINGDOM OF MUSIC has a runtime of approximately 83 minutes. Both films are rated G.
The Swan Princess Activity Sheet
Click on the image below to print off this fun activity sheet in full size.