I was able to screen Glass Onion in order to write this Glass Onion Parents Guide. All opinions are my own.
I love Daniel Craig and I loved Knives Out, so I have been anxiously awaiting the second installment in the series to come out. Glass Onion is packed with an all-star cast and a fantastic storyline. It is fun and engaging, keeping you entertained and pulled into the movie the whole time.
There are some adult-themed elements to the movie, but overall it was pretty good. I would say 12 and older for this one, but be sure to read the parents guide below as there are a few things you may not want younger viewers to see.
Glass Onion premieres on Netflix on December 23, 2022
Glass Onion Parents Guide
Glass Onion is rated PG-13 for strong language, some violence, sexual material, and drug content. It runs for 2 hr 20 min.
There are no end-credit scenes for Glass Onion.
Sex & Nudity –  3/5 – Shows to characters preluding to sex. The girl is on top of a boy, both in swimming suits while they kiss. This scene is shown twice in the movie. Beniot Blanc is shown in the bathtub from the chest up. Not sexual. Characters wear bathing suits that are skimpy. Sex toys and condoms are seen briefly. One of the characters does a live stream talking about boobs. It talks about boner pills a few times.
Violence & Gore – 2/5 – Someone choking, someone shot, a fake arrow is shot at someone, and fake blood spurts out. Characters are shown with blood on their clothes.
Profanity – 3/5 – Several uses of shit, damn, GD, God, hell, bitch, ass, and 2 uses of F
Alcohol, Drugs & Smoking – 4/5 – Drinking, Vaping, Smoking, Cigars, show joints in a baggie. Drinking is shown in almost every scene, with characters getting drunk.
Frightening & Intense Scenes – 2/5 – Some people get killed. There are chase scenes, explosions, and fighting. But nothing overly scary or frightening.
Glass Onion is a great murder mystery movie that is funny and packed with action. It doesn't give you a second to look away. Another great Knives Out mystery that I am already looking forward to watching again!
Glass Onion premiers on Netflix on December 23, 2022
About Glass Onion:
Benoit Blanc returns to peel back the layers in a new Rian Johnson whodunit. This fresh adventure finds the intrepid detective at a lavish private estate on a Greek island, but how and why he comes to be there is only the first of many puzzles. Blanc soon meets a distinctly disparate group of friends gathering at the invitation of billionaire Miles Bron for their yearly reunion.
Among those on the guest list are Miles' former business partner Andi Brand, current Connecticut governor Claire Debella, cutting-edge scientist Lionel Toussaint, fashion designer and former model Birdie Jay, her conscientious assistant Peg, and influencer Duke Cody and his sidekick girlfriend Whiskey. As in all the best murder mysteries, each character harbors their own secrets, lies, and motivations. When someone turns up dead, everyone is a suspect.
Returning to the franchise he began, Academy Award-nominated filmmaker Rian Johnson writes and directs Glass Onion: A Knives Out Mystery and assembles another all-star cast that includes a returning Daniel Craig alongside Edward Norton, Janelle Monáe, Kathryn Hahn, Leslie Odom Jr., Jessica Henwick, Madelyn Cline with Kate Hudson and Dave Bautista.
Glass Onion Trailer
Get more updates here:
Twitter: https://twitter.com/netflix and https://twitter.com/KnivesOut
Facebook: https://www.facebook.com/netflix and https://www.facebook.com/KnivesOutOfficial
Instagram: https://www.instagram.com/netflix and https://www.instagram.com/knivesout
#GlassOnion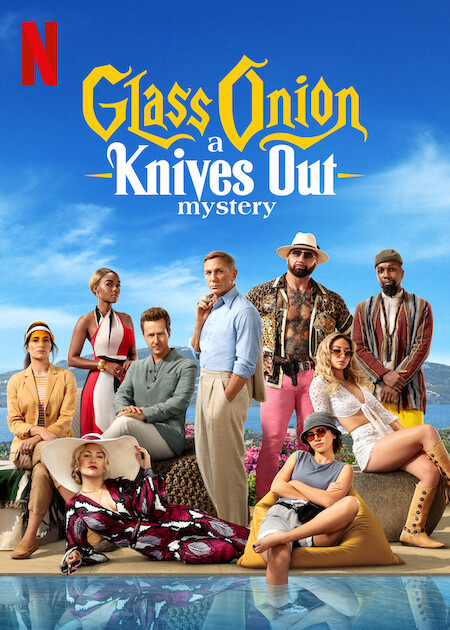 Glass Onion premiers on Netflix on December 23, 2022
I hope this Glass Onion Parents Guide helped you! Let us know what you thought of the movie.
If you haven't seen Knives Out for a while or before – be sure to watch it. It is such a great movie. Get it on DVD, Blu-ray, or 4K or Digital now.
Other new releases we think you will like:
Lyle, Lyle, Crocodile now available to own
Interview with Gregory Mann for Guillermo del Toro's Pinocchio
Guillermo del Toro's Pinocchio Parents Guide
The Super Mario Bros. Movie Official Trailer
Amsterdam movie now available to own
Euphoria Seasons 1 and 2 now available to own
Tom and Jerry: Snowman's Land (new movie)
Your favorite holiday classics now available in 4K UHD
Black Panther: Wakanda Forever Parents Guide
The Santa Clauses Disney+ series
Ant-Man and The Wasp: Quantumania Trailer