We received a copy of this movie for review. All opinions are my own.
If there is one thing my family loves, it is the magical world of Wizards and Witches. Harry Potter still lives on in our house, so we were very excited when we first heard about Fantastic Beasts and Where to Find Them. We watched it in theaters and my kids couldn't wait for it to come out on Blu-ray and Digital so we could have it at home. When we got it, they wanted to do something fun to celebrate, so we decided to make our own wands. Our DIY Wands Craft was so much fun. The kids really got into to and created amazing designs. You can make them with sticks (we used chopsticks and skewer sticks), hot glue and acrylic paint. If you want to get fancy add gems, beads, twine and other things. You can make a wand from start to finish in less than an hour. Here is how we made ours.
DIY Wands Craft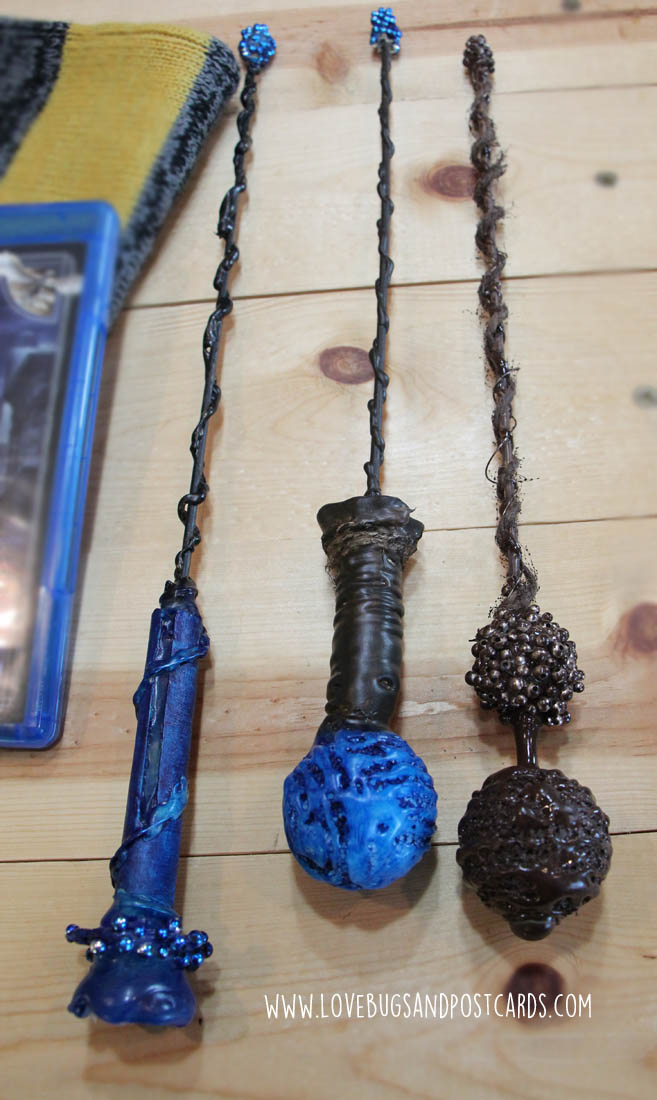 To make the wands, take a stick (chopsticks are the best) and hot glue and start making a handle. You can design this however you want. The glue stays runny/pliable for a while (up to a minute) after you put it on the stick, so use the end of the glue gun to push it around and tell it what you want it to do. Layers are a great way to make designs. We added jewels to the bottom of a few and they look awesome! Styrofoam balls, corks, beads, twine, wooden clothespins (old style), wire and a few other things were all supplies that we used. Be sure to have a lot of glue sticks on hand. I think we went through about 30 making these 10-12 wands. You can get a smini low-temp glue gun and a package of glue sticks for about $3 each at most stores.
Make your own wand, and watch Fantastic Beasts and Where to Find Them and have a great time taming the animals and casting spells right along with them 😉 Your kids will love it!
Fantastic Beasts and Where to Find Them Trailer

There are growing dangers in the wizarding world of 1926 New York. Something mysterious is leaving a path of destruction in the streets, threatening to expose the wizarding community to the No-Majs (American for Muggles), including the Second Salemers, a fanatical faction bent on eradicating them.  And the powerful, dark wizard Gellert Grindelwald, after wreaking havoc in Europe, has slipped away…and is now nowhere to be found. 
Unaware of the rising tensions, Newt Scamander arrives in the city nearing the end of a global excursion to research and rescue magical creatures, some of which are safeguarded in the magical hidden dimensions of his deceptively nondescript leather case.  But potential disaster strikes when unsuspecting No-Maj Jacob Kowalski inadvertently lets some of Newt's beasts loose in a city already on edge—a serious breach of the Statute of Secrecy that former Auror Tina Goldstein jumps on, seeing her chance to regain her post as an investigator.  However, things take an ominous turn when Percival Graves, the enigmatic Director of Magical Security at MACUSA (Magical Congress of the United States of America), casts his suspicions on both Newt and Tina.
Now allied, Newt and Tina, together with Tina's sister, Queenie, and their new No-Maj friend, Jacob, form a band of unlikely heroes, who must recover Newt's missing beasts before they come to harm.  But the stakes are higher than these four outsiders—now branded fugitives—ever imagined, as their mission puts them on a collision course with dark forces that could push the wizarding and No-Maj worlds to the brink of war.