This final season of Arrow is bitter sweet. I love this show so much and I have watched it since it first came out (several times). Stephen Amell is a favorite and I hope to see him in more soon! (hey D.C… lol).
We received a copy for review. All opinions are my own.
ARROW: THE EIGHTH AND FINAL SEASON
Contains All 10 Exhilarating Episodes from the Eighth and Final Season, Plus Special Features and Deleted Scenes!
After eight remarkable seasons, Warner Bros. Home Entertainment and DC mark the end of an epic era with its final installment of the suspenseful and action-packed series with the release of Arrow: The Eighth and Final Season on Blu-ray & DVD TODAY!
Get ready for nonstop action from start to finish with all 10 action-packed episodes from the eighth and final season, plus the show's 2019 Comic-Con Panel, the broadcast special Arrow: Hitting the Bullseye and deleted scenes! A limited-edition bonus disc featuring all five DC Crossover Event: Crisis on Infinite Earths episodes will be available exclusively for fans who purchase the Blu-ray.
Arrow: The Eighth and Final Season is available on Blu-ray which includes a Digital Code (U.S. only) and DVD. Arrow: The Eighth and Final Season is also available to own on Digital via purchase from digital retailers.
Following the arrival of The Monitor, Oliver Queen left his home, his family, & his team behind to take on his most challenging battle yet, knowing the cost may be his life. But this time it's not just his city he's seeking to protect – it's the entire multiverse! Oliver's quest will send him on a journey where he is forced to confront the ultimate question: what is the true cost of being a hero?
"It's been an unbelievable eight-season run for Arrow," said Rosemary Markson, WBHE Senior Vice President, Television Marketing. "The devoted fan base for this phenomenal franchise is going to love the limited edition bonus disc included within the Season 8 and Complete Series Blu-ray releases, featuring the entire 2019 Crossover event plus all-new Crossover bonus content! "
Arrow stars Stephen Amell (Private Practice, Heartland), David Ramsey (Dexter), Rick Gonzalez (Reaper), Juliana Harkavy (Dolphin Tale, The Walking Dead), Katherine McNamara (Shadowhunters, Happyland), Ben Lewis (Chasing Life, Suits) and Joseph David-Jones (Nashville, Allegiant) with Katie Cassidy (A Nightmare on Elm Street).
OWN THE COMPLETE ARROW SERIES
Arrow: The Complete Series is also available for fans to own on Blu-ray and DVD for $189.99 / $169.99 SRP ($249.99 / $229.99 in Canada). The bonus disc is included in the Blu-ray Complete Series set.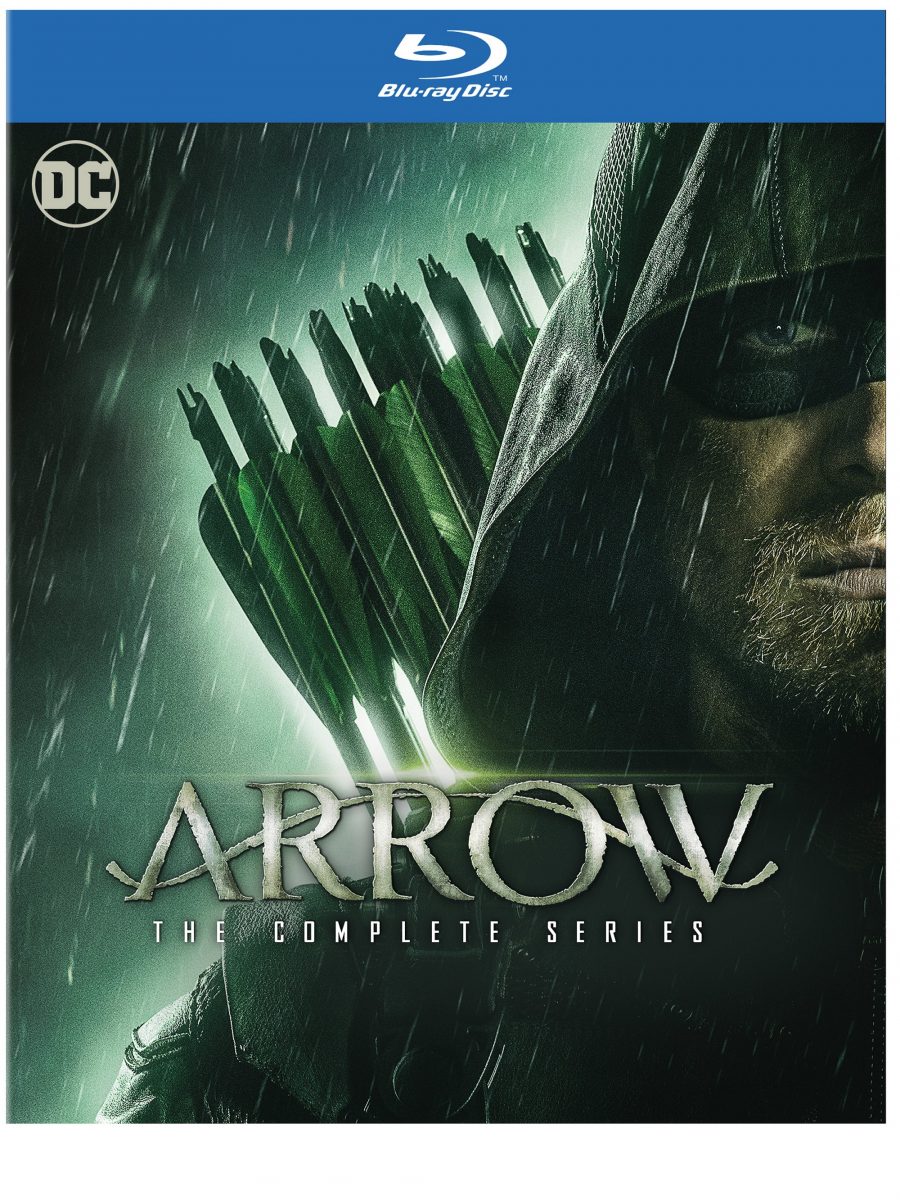 Be sure to check out the complete series of Arrow! If you haven't watched it recently – this would be the perfect show to binge watch while in quarantine 😉